Saudi Arabia's ongoing air war against Yemen continues to escalate, as the most recent figures released on the matter show that the number of air strikes carried out in the first half of 2017 already exceeded the entire previous year by a fair amount.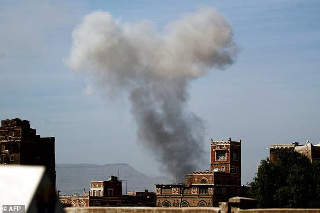 Indeed, the figures, disclosed in a UN report and based on publicly available data on strikes, show that the monthly average for number of airstrikes against Yemeni territory is nearly triple the figures in 2016. Armed clashes on the ground are also more than double as frequent.
The UN report does not explicitly assign blame for the airstrikes, though it's not really a secret that they are almost exclusively Saudi airstrikes. The only country outside the Saudi coalition hitting Yemen at all is the United States, which occasionally uses a drone to blow up a car.
It is this soaring number of strikes which is behind what is also believed to be a soaring number of civilian deaths in the war, though exact figures on exactly how many have been killed overall are not available. Between airstrikes, the Saudi naval blockade, and a cholera epidemic made worse by an inability to import medicine, Yemen is in an increasingly dire crisis.