According to reports from the Syrian Observatory for Human Rights, the Syrian Army has violated two different safe zones in the country with airstrikes, killing at least four civilians in the area and wounding several others.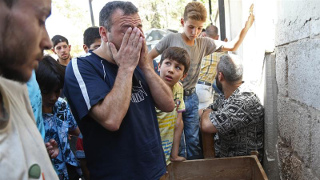 This included strikes around the Houla Plain, where the newest of three extent safe zones was established just last week. The strikes targeted al-Houla and Tal-Dahab, killing one person. Strikes in Eastern Ghouta, hit a town inside the smallest ceasefire zone, on the outskirts of Damascus, killing three more.
The strikes come as something of a surprise, as by all accounts the safe zones had been holding pretty well. Indeed, this is the first violation of the Homs safe zone reported at all. The Syrian government has responded to either report.
Nor has Russia, which has positioned monitors around the zones, and would seemingly be in position to confirm or deny if any violations took place. Such violations would be curious, as while Syria is taking territory further south, along the Jordan border, there doesn't appear to be any real military reason for the strikes in either zone.