A new round of fighting has erupted around the southern Philippines city of Marawi, as ongoing attempts to recapture the city from the ISIS rebels had led to what is basically an open-ended siege.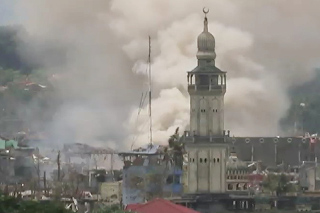 Fighting over Marawi began back in May, and has been ongoing since then, though not as heavily as it was early on. This latest fighting, according to officials, left at least nine Islamists killed, including one identified as Isnilon Hapilon, wanted by the FBI.
The Philippine military is claiming that the Islamists inside the city have been trying to dig a tunnel out under a major mosque as a way to get out of the battle zone. The military is acting in a fairly broad region around the city,so tunneling that far would be a real trick.
Officials say 548 Islamists from various factions have been killed in the fighting, along with 122 Philippines soldiers, and 45 civilians. The city is mostly depopulated, but around 100 civilians are believed to be held hostage within.