Facing pressure from local tribal elders, the Taliban has agreed to release a number of hostages from the remote village of Mirza Olang, a Shi'ite village they'd attacked over the weekend, killing at least 50 civilians.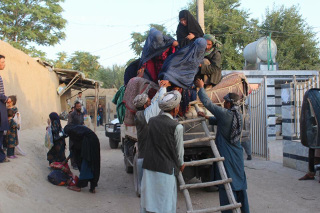 An estimated 150 families, also Shi'ites, were held by the Taliban after the attack. Locals say that 235 hostages were released today, overwhelmingly women and children. Security officials estimate that another 100 civilians are still being held.
Officials are still trying to piece together the details of the continued situation, with provincial governor Mohammad Zaher Wahdat saying that those released are in shock and reluctant to speak about their time in captivity.
Afghan security forces are continuing to attribute the weekend attack to Taliban forces backed by ISIS, though the Taliban has insisted that this is not the case, and that the offensive was purely led by one of their commanders and his men, with no ISIS involvement. ISIS has not commented but it not known to be active in the province.
Afghan officials say that they intend to carry out a retaliatory attack to try to retake the village, once reinforcements can be brought to the area. This has made getting the hostages released a top priority, as once fighting breaks out they'd be in vastly more danger.