While most of the Trump Administration opposes the president's efforts to come up with some pretext for withdrawing from the P5+1 nuclear deal with Iran, Ambassador to the UN Nikki Haley has appeared to be on board with the idea, even declaring Iran in violation of the deal in June, shortly before President Trump grudgingly admitted they were in compliance.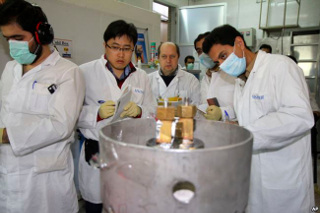 President Trump has suggested he's going to claim a violation next time, and Haley is reportedly planning to visit the IAEA in Vienna later this month, with the visit expected to focus on Iranian compliance. The IAEA has affirmed Iran remains in compliance monthly since the deal went into effect.
Neither Haley nor Trump are believed to be particularly concerned with the factual details of compliance, so much as declaring Iran in violation would give them a pretext to withdraw from the deal, and escalate sanctions and military threats against Iran. Opponents of the move warn the US would be blamed for trying to kill the deal, and suffer diplomatically
Haley's visit, then is likely to be done mostly to make a show of engagement with the international community ahead of declaring the violation. Though her past claim was that Iran was "violating" the nuclear deal by supporting the Syrian government against ISIS, she may also look for some excuse at least loosely related to the nuclear deal itself, as opposed to a random US grievance.