In what could be a significant blow to ISIS' defense of Deir Ezzor Province, the Syrian Army has captured the town of al-Sukhna, the last ISIS-held town in the Homs Province, which lies along a major highway leading directly into the ISIS-held east.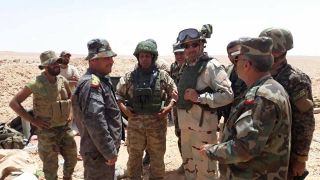 At the peak of ISIS' territory gains in Syria, they were pushing into Homs Province fairly aggressively, and even after the fall of Palmyra they fought hard to keep that territory to try to counter any major offensives coming from Syria's main government-held territories around Damascus.
The M20 highway now gives the Syrian military a straight shot deep into Deir Ezzor, which could allow them to advance on the province's capital city with only a couple of small towns in the way. This could lead to substantial territory losses for ISIS in the oil-rich east.
The city of Deir Ezzor, and the neighboring city of al-Mayadin, would be both a blow for ISIS to lose, and a major military goal for the Syrian government, as it would not only solidify their route connecting to reinforcement militias in neighboring Iraq, but would give them a route through the primary border crossing at Abu Kamal.