A new statement from the US State Department issued late last night warned that there would be "grave consequences" if al-Qaeda's Nusra Front took control over the northern Idlib Province of Syria.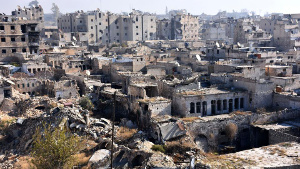 The statement, penned by Michael Ratney, cited recent military gains by Nusra Front and its umbrella organization, Tahrir al-Sham, saying that it was putting the future of all of northern Syria in jeopardy.
Ratney's biggest concern was that the control of the province by Nusra would make it more difficult for the US to convince "international parties," by which he obviously meant Russia, from carrying out airstrikes against the region.
Syria and its Russian allies have been fighting Nusra for years, with major fighting last year centering on the city of Aleppo. Throughout the attacks on Nusra, the US repeatedly condemned Russia and Syria for making such attacks, though the US has on a few rare occasions attacked Nusra targets themselves.
The US goal in northwestern Syria seems to be to prevent an outright defeat of the rebels, who are increasingly concentrated in Idlib. US activity is in the east, mostly backing the Kurdish YPG, and the defeat of Nusra would free up the Syrian military to advance east against ISIS, taking territory the US envisions being seized by the Kurds.