Pro-Saudi forces may have seized the Khalid ibn al-Walid military base near the key port of Mocha last week in Yemen, but that hasn't done much to slow the fighting in the surrounding area, as the Shi'ite Houthis continue to resist the advance of the Saudi-backed forces and try to push them out of the strategic area.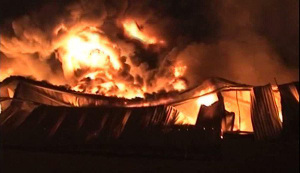 Heavy fighting has continued over the past several days both around the base and in towns around the area, with over 40 fighters killed, split between 16 Houthis and 27 Saudi-backed fighters. Neither side appears to be seriously gaining or losing ground.
The fighting has even extended off the coast of Mocha, with the Houthi rebels attacking a UAE warship with a boat full of explosives just off the coast. Saudi coalition officials say there were no casualties, not significant damage.
The Houthis only control one port, Hodeidah, after years of war with the Saudis, but also control coastal areas along the west coast, and are likely to continue to try to push their way into the bases around Mocha to ensure they keep a position in the area.