Following the 419-3 vote in the House, the Senate today passed the new bill sanctioning Russia with a similar overwhelming margin, 98-2. The lone no votes were Sens. Bernie Sanders (I – VT) and Rand Paul (R – KY).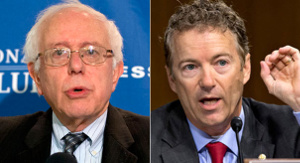 The bill initially started as limiting the president's ability to ease sanctions on Russia, but quickly expanded to adding a bunch of new sanctions targeting Russia, and also some new sanctions against Iran and North Korea, done to secure the votes.
The votes advance the bill on to President Trump, and despite his initial reticence at a bill limiting his power,White House officials have indicated that he will sign the bill as it now structured. This opens the door for retaliatory measures.
Russian officials have already threatened retaliatory measures over this bill should  it be signed, expected to include moves to expel some US diplomats. The European Union is also threatening to retaliate, as the sanctions target foreign investors in Russia's energy sector, which includes a number of important EU companies who import energy from Russia.
Iran has also threatened reciprocal measures over the sanctions against them, which officials see as violating the P5+1 nuclear deal, since they replace sanctions the US was obliged to lift under that deal, while claiming a different pretext for them.