Looking to resolve an ongoing legal suit related to ownership of a building in the Palestinian city of Hebron, a group of about 140 Israeli settlers, 15 families, forced their way into the building and barricaded themselves in, saying any attempt to remove them would be seen by Israel's "enemies" as a sign of weakness.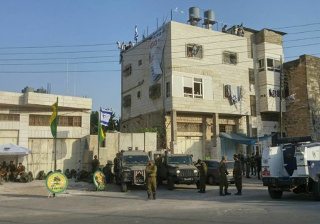 Israeli Prime Minister Benjamin Netanyahu appears to have taken the bait, ordering the Defense Ministry not to make any effort to clear the settlers from the three story apartment building, which is across the parking lot from the Tomb of the Patriarchs.
Ownership of the building has been the subject of a five year legal battle. The settlers claim to have bought the building from the Palestinian owners back then, but don't have any original documentation to back up the sale. The Palestinians insist they never sold it.
The ownership is still subject to an appeal, though the settlers seem to be gambling that if they get de facto control over the building, it will be too politically unpopular for the far-right government to do anything about it, irrespective of what the courts decide.