Ongoing fighting between two rival jihadist factions, Ahrar al-Sham and Tahrir al-Sham continues to rage in northwestern Syria's Idlib Province, with small skirmishes turning into bigger gunbattles and more dramatic large-scale deployments into the area.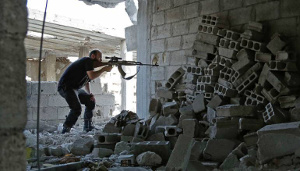 While so far it's been a fairly limited exchange, compared to some of the past ones, there are growing concerns that this build-up could quickly lead to a full-scale explosion of the rebel-packed province, leading to more bloodshed and humanitarian crises.
While Tahrir al-Sham is already drawing on much of its leadership, al-Qaeda's Nusra Front, the Ahrar al-Sham faction is trying to get more of its fighters into the same areas as tensions rise, with Turkey sending around 150 of their allied rebels into the area to fight alongside Ahrar al-Sham.
Ideologically there is limited difference between the two groups, as the Nusra Front is literally an al-Qaeda affiliate, while multiple Ahrar al-Sham leaders have pledged loyalty to al-Qaeda's leader, Ayman al-Zawahiri.  The fighting appears largely related to them both being largely stuck within the Idlib Province, having lost most of their other territory, and each side wanting to dominate that last region at all costs.