The United Arab Emirates is totally denying yesterday's reports in the Washington Post that they were behind the hacking of a Qatari state media outlet, plating false quotes from Qatar's Emir which precipitated the anti-Qatar blockade.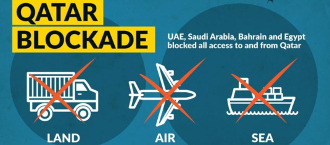 The Washington Post report cited unnamed US intelligence officials, who had found that top UAE leaders held a meeting on May 23 discussing a plot to hack Qatari state media out. The hacking attack happened the following day.
Foreign Minister Anwar Gargash not only insisted that the Washington Post story was "purely not true," but that he is fully confident the story "is going to die" in the next few days and will be forgotten. He also appeared to suggest this hacking, which started the blockade, was irrelevant.
"What is true is Qatar's behavior," Gargash insisted, claiming that Qatar was inciting violence across the Middle East. The May 24 hack was very much the instigator, however, as well nations like the UAE were angry with Qatar (as evidenced by the May 23 plot meeting), they weren't overtly blockading them until the hack and the false quotes attributed to Qatar's Emir came out.
So far Qatar has criticized the hack as a violation of international agreements, and the UAE has blanketly denied involvement, but interestingly there has been no real comment from Saudi Arabia, who is clearly leading the blockade against Qatar.
If it turns out the Washington Post report is accurate, Saudi Arabia has some serious thinking to do about the anti-Qatar movement, as it will have been manufactured whole cloth by one of its small neighbors, seemingly just to provide a pretext for such moves.
Last 5 posts by Jason Ditz