The Pentagon's latest massive undercount of the civilian death toll in coalition airstrikes against Iraq and Syria has shown a significant spike in the death toll, putting the latest official count at 603 civilians between the start of the air war and the end of May.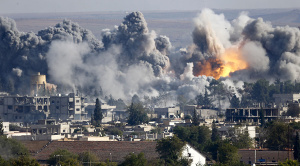 The figure is rising a lot faster than it used to, growing by scores months now instead of by single digit numbers, reflective of the general trend of soaring death tolls as US strikes concentrate on densely populated civilian targets.
They're still wrong, however, and wrong in a big way. The official 603 killed is less than one seventh the figure by the Air Wars NGO, which put the civilian deaths through the same period at 4,354. This is because incidents with hundreds killed are often revised downward by the Pentagon to just a handful, and smaller incidents, where only a dozen or so are killed, tend to be ignored altogether.
It is noteworthy, however, that the Pentagon is getting the trend exactly right, showing the spike in civilian deaths exactly when the NGOs did, albeit with much less realistic numbers, and even notes that massive numbers of civilians in recent months have been in the area around Mosul.
Last 5 posts by Jason Ditz