Visiting Warsaw as part of a series of meetings in Europe this week, President Trump did nothing to dispel fears he is about to start a major war in eastern Asia by attacking North Korea, reiterating today that "something will have to be done" about North Korea's "very, very bad behavior."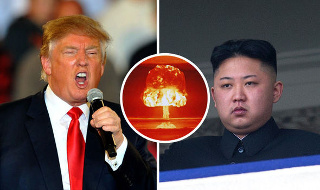 As usual, Trump offered no details on what that would be, beyond saying that he is considering "some pretty severe things" he could do to North Korea. Last week, National Security Adviser H.R. McMaster confirmed all options presented to Trump on North Korea involved attacking them militarily.
From the start of the annual military exercise with South Korea to the deployment of an "armada" of warships off the Korean coast, President Trump has been talking up the idea that the US might unilaterally attack North Korea, despite warnings from the major powers in the region it would have disastrous results.
North Korea tested an ICBM earlier this week, their first successful such test, and officials are now suggesting that the US attack could be imminent, with the top US commander in Korea declaring the lack of attacks as America's "choice," and that the US could change their minds whenever they want to.
Trump's comments only add to the belief that might be about to happen, as he talks about dealing with North Korea "rapidly," and takes every opportunity to excoriate the very notion of diplomacy as the failed policy of the past, whittling down America's policy consideration to several variations on the same theme: a new Korean War.