Fighting between Syrian forces and rebels along the Jordanian border saw some cross-border fire, when during the Syrian military's airstrikes against the rebels, three of the missiles flew wide of the conflict, and landed inside Jordanian territory.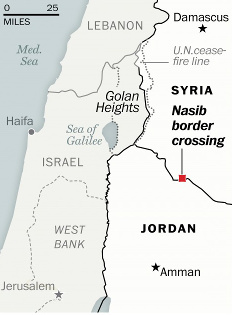 Rebels control the border crossing on the Syrian side, in the Daraa Province. The Jordan military confirmed the incident, saying that the three missiles fell inside of their territory and caused "a small fire."A local Jordanian government Facebook page claimed a doctor was "slightly injured" in the situation as well, but did not say how.
Jordan has hosted some US arming and training of Syrian rebels, but has for the most part tried to state out of the war. This was comparatively easy when the region along the border was completely rebel dominated, but is getting harder and harder to pull off as the Syrian government aims to recover its southernmost territory.
Though there are still substantial rebel presences in Daraa Province, which is where the civil war started all those years ago, the largest rebel strongholds in the country now are exclusively in the north. As the government tries to reclaim the south, it's going to risk putting a lot of fighting right along the border.