When Turkish troops were deployed to a military base in Qatar, it was huge news across the region, primarily because it was a show of support by the Erdogan government for the emirate at a time when many of Qatar's neighbors are blocking them.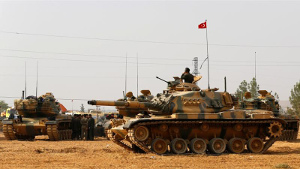 The number of troops sent last week was not publicly reported, and that's because it was not a lot, with the latest Turkish media report suggesting that 23 soldiers were sent back then, and the new deployments announced today brought the number to "at least 88."
Turkish media suggested this number could rapidly grow, reaching 1,000 as Turkey looks to back its regional ally, and as Saudi Arabia and others demand Qatar expel the Turks outright. The deadline for that demand, and many others, is Sunday night, and Turkey's deployment likely underscores that they don't intend to leave.
Meanwhile, Qatari Defense Minister Khalid al-Attiyah visited the Turkish capital of Ankara today to meet his counterpart,and discuss joint exercises to be carried out in the future, along with the possibility of accelerating deployments.