US and Kuwaiti officials are working with the government of Qatar on a formal response to the 13 demands issued last week by Saudi Arabia and its allies against the tiny Gulf nation. The deadline for a response is believed to be Sunday.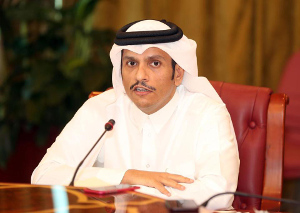 And while all the signs are that the response is going to be some variation on "no," Qatari Foreign Minister Mohammed bin Abdulrahman al-Thani appeared to want something a bit more nuanced than that, saying that his country is open to pursuing negotiations in earnest.
It's not at all clear that's an option, however, as the Saudi government has insisted that the demands are all "non-negotiable" and both Bahrain and the United Arab Emirates have insisted they'll accept nothing less than an absolute acceptance by Qatar.
The demands include shutting down all Qatari media forever, expelling all GCC citizens from the country who didn't leave during the blockade, closing all diplomatic facilities in Iran, shutting down a Turkish military base, and agreeing to pay an undisclosed fine as "reparations" for past disagreements with the Saudi kingdom.
Qatar is not excepted to accept these demands, and the US has conceded that many of them would be very difficult for Qatar to consider, but so far there's no sign that a sincere offer of negotiation would be accepted at all.