Just two weeks out from the G20 summit in Hamburg, Germany, President Trump is looking to put on a big show, pushing eagerly for a high-profile meeting with Russian President Vladimir Putin, the first time the two leaders will have met.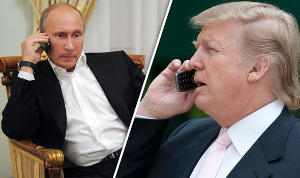 Trump's vision is for this to be a very publicized meeting, with full media access and all the usual diplomatic protocols that go with it. This is another case where he's split with top officials in his administration, as State Department and National Security Council figures urge him to "keep his distance" from Putin.
They've offered two counter proposals, either that Trump and Putin have an informal "pull aside" meeting without the trappings of an official meeting, or that the two don't meet at all, and instead the US and Russian delegations meet without the presidents' involvement.
President Trump campaigned on the idea of normalizing US-Russia relations, but has done little to nothing to that end since taking office. To make matters more complicated, every meeting between US and Russian officials in recent weeks has been treated as hugely controversial both within the press and in Congress. It is likely concern over that which has many averse to Trump making a public show of meeting Putin.