Iran has responded to Saudi Arabia's claim of having captured an Iranian Revolutionary Guard boat and three members, who they claimed were going to carry out "terrorist acts" in Saudi national waters, saying that the three people in question were fishermen, and that the boat was a fishing boat.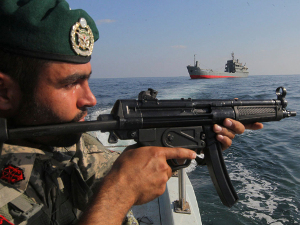 The Iranian version of the story actually fits more neatly into previous reports of incidents in the area around the Marjan oilfield on Friday, in which Iran had already reported two other boats had strayed across the maritime border in heavy waves, and come under fire, with one fisherman killed.
Iran reported the incident with the other two boats on Saturday, while Saudi Arabia didn't offer their own version of the events until Monday, when they claimed to have chased three boats, and caught one. The Saudi version of the story presents them all as Iranian Revolutionary Guard.
Fishing is common enough in these waters, though Saudi Arabia's massive distrust of Iran and the incident's proximity to a lucrative off-shore oil field appears to be tailor-made for the Saudis to interpret the incursion as some broader plot against them. Whether the Saudis will offer any evidence or not remains to be seen.
Last 5 posts by Jason Ditz