Gen. Mohammad Zaman, the commander of the Afghan Army's 201st Silab Corps, is claiming this weekend that the latest offensive against the ISIS affiliate in the Nangarhar Province has led to the deaths of around 700 ISIS fighters so far.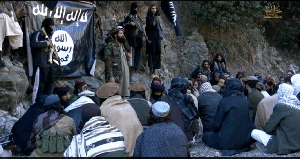 Such a figure is not unusual for the Afghan military, which loves to claim gaudy death tolls in their highest profile operations, but does conflict with the public narrative that the ISIS affiliate in Afghanistan is very small and very aspirational.
Indeed, Gen. Zaman dismissed ISIS claims of having captured Tora Bora is recent days as "psychological warfare," and appeared to be trying to present the massive number of fighters killed as a sign that they are decisively defeating ISIS.
Yet the Afghan military has already claimed to have defeated, and virtually "wiped out" Afghan ISIS multiple times in the past couple of years, and a claim of 700 ISIS fighters killed in the last three months would be more concerning than comforting, as the group shows no signs of being dramatically degraded from such a loss.
That's of course a recurring problem with nations around the world trying to handle ISIS affiliates, as the group has shown itself to extremely resilient in the face of heavy losses, and it makes the large death tolls that so often come with offensives against them raise questions about whether they are accurate, or more disconcertingly, whether the ISIS affiliate is much bigger than anyone realizes.