German Chancellor Angela Merkel's office has issued a statement expressing concern about the US Senate's vote to impose new sanctions on Russia, warning that they are prepared to retaliate if the sanctions end up harming German companies.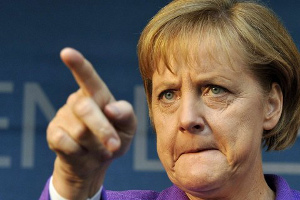 This is a realistic concern. The new sanctions imposed by the Crapo Amendment target Russia's mining industry as well as attempting to curb foreign investment in its energy industry. German and other European energy companies have considerable such investments.
German companies Wintershall and Uniper in particular are heavily investing in the Nord Stream 2 pipeline, an intended Baltic natural gas pipeline to provide Russian gas imports to northern Europe. Most of the nations in northern Europe, particularly Germany, are heavily dependent on Russia as a source of natural gas.
Merkel's spokesman insisted it was "peculiar" that the US Senate would try to punish Russia for allegations of election interference by imposing sanctions that mostly threatened European companies that are securing energy imports, and threatened to respond if the US tries to do so.