During his annual question and answer session, Russian President Vladimir Putin insisted that Russia does not view the United States as their enemy,and that they are ready for constructive dialogue with the US on a number of issues, saying non-proliferation of WMDs and Syria are areas in particular where cooperation would be possible.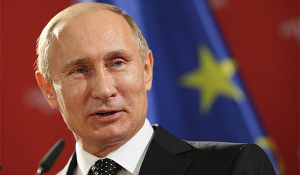 Though officially an answer to a question from some Russian citizen, Putin's comments are likely a direct response to Defense Secretary James Mattis, who earlier this week told the Senate Armed Services Committee there was "no indication" Russia was interested in constructive dialogue, and was only interested in treating the US as a "competitor."
Putin and other Russian officials have repeatedly made clear they are interested in improved diplomatic relations with the United States, and they were particularly eager to approach normalization of ties back when President Trump was talking up that idea.
But President Trump has since abandoned efforts to improve ties with Russia, at least publicly, and administration officials have tried to present the lack of diplomatic progress as Russia's fault. Putin, it seems, wants to again underscore his nation's interest in diplomacy.