The delay in the US decision on Afghan troop levels is likely about to end, with President Trump last night delegating the authority to decide on a strategy to Defense Secretary James Mattis, a former general who is among several generals who had been said to be pushing Trump toward escalation.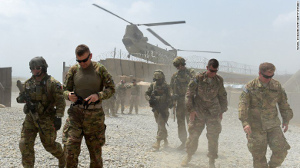 Continuing Trump's interest in delegating troop level decisions down to the Pentagon, this leaves Mattis in the driver's seat for US policy in Afghanistan, and means that thousands of additional US troops are likely to be headed to Afghanistan in the near future.
Only yesterday, hours before Trump's delegation was announced, Mattis had told the Senate Armed Services Committee that a decision on Afghan troop levels was likely still "weeks away." It's unlikely it will be that long anymore, however, because Mattis is seen as having strong opinions on the matter, and will likely want to answer the question quickly.
Reports over the past couple of months on the Pentagon's proposals for Afghanistan suggest that escalations between 3,000 and 5,000 more US ground troops, on top of the 8,500 already there, are being considered. All indications are that Mattis will be ending up somewhere on the high side of that figure.