Following reports in recent days that the US has joined military operations against the local ISIS affiliate, Philippines military officials now say that US troops are on the ground inside the city of Marawi, and are providing "vital surveillance" for the Philippines military.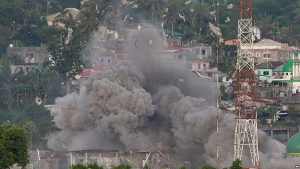 Brig. Gen. Restituto Padilla told a news conference today that he was not sure of the "exact number" of US troops involved, or their specific mission, but did insists "they are not allowed to fight" and are in a purely non-combat role, despite being armed and inside a combat zone.
The US had previously only commented on its provision of the surveillance drone to the battle, but that drone crashed on Saturday and it appears that since then the US contribution has been purely ground troops. US officials insist the troops can fire to defend themselves if attacked, despite being "non-combat."
The involvement of US troops is controversial, since President Rodrigo Duterte has sought to expel US forces from the country. He insists that he didn't seek US support for the Marawi fight, and was "not aware" it was even happening until US forces arrived in the area around the city, apparently at the behest of the Philippines Army, which has close, direct ties with the Pentagon.