With a heavy portion of the Saudi-led push against Qatar related to the nation's perceived support for the Muslim Brotherhood, and President Trump's campaign talk of banning the Islamist movement coming in line with his eagerness to back hostility toward Qatar. It's not an easy move to make, however.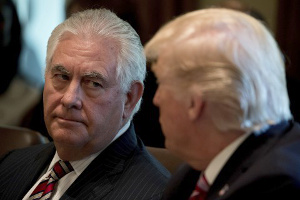 Secretary of State Rex Tillerson today admitted that an attempt to label the Muslim Brotherhood, a largely non-violent political movement with some five million members, a "terrorist organization," would be hugely "problematic" and risked complicating US policy around the region.
Tillerson noted that members of the Muslim Brotherhood are members of parliament in multiple nations, citing Turkey and Bahrain as specific examples, and adding that those political figures have renounced violence as a tactic, making moving against them as terrorists a pretty serious problem.
That's broadly the case, even if most members of the Muslim Brotherhood aren't politically connected, as the group has largely sought to establish itself as a democratic Islamist movement across the Middle East, and in the countries where political dissent hasn't been formally criminalized, as in democratic Egypt before the 2013 military coup, they've been quite successful playing to religious conservative voters.
This isn't a newfound problem with the move against the Brotherhood. Rather, the CIA was very publicly warning the Trump Administration about such a move back in February as well, warning that the movement as a whole has formally rejected violence and has set itself up as a moderate Islamist alternative to al-Qaeda and ISIS. They cautioned that declaring them terrorists too risked fueling extremism, and sending the message that Muslims in general are going to be labeled terrorists by the US irrespective of their actual position and actions.
The only reason this has been brought back up is that such a move would be favored by Saudi Arabia in the move against Qatar, but doing so has the exact same problems it always did, and many US officials remain very conscious of the backlash the move would provoke.