Facing growing complaints from Senate hawks about not having made a decision yet on troop levels in Afghanistan, President Trump has decided to abandon making such a decision entirely, and has given Defense Secretary James Mattis full, unilateral authority to decide on the Afghan war escalation.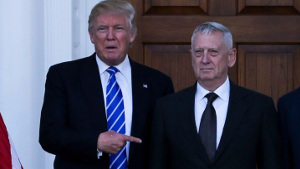 President Trump has been keen to delegate future authority on troop levels in other conflicts to the Pentagon, but this is the first time he's done so without a perfunctory announcement of sending a bunch of additional ground troops first to put his personal stamp on the escalation.
All indications are that Mattis, and the other former generals in Trump's cabinet, are all in favor of the larger escalation proposals among the options presented to Trump, while Secretary of State Rex Tillerson was among the few skeptics.
Mattis had told the Senate Armed Services Committee earlier today that a decision on Afghan troop levels was still weeks away, but it is unclear if that was based on the assumption that Trump was still going to have to decide. Now that he gets to decide himself, such a decision is likely to be faster.
There are currently 8,500 US troops in Afghanistan, and proposals are expected to add between 3,000 and 5,000 more troops to the war, now in its 16th year.