Originally introduced by Sens. Rand Paul (R – KY) and Chris Murphy (D – CT), a Senate bill aiming to block portions of the $110 billion US arms sale to Saudi Arabia is expected to be voted on at some point this week, with Senate officials saying it could be as soon as Tuesday.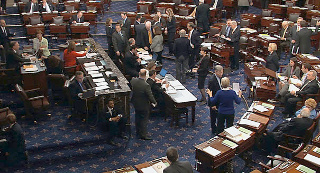 Such votes have never been particularly close in the past, but this one is expected to be much closer, with mounting opposition, particularly among Democrats, to the arms deal, and several refusing to sign off on the record large arms sale without some specific US plan of operations for resolving the Saudi invasion of Yemen.
Human rights groups have been critical of both the US and Britain for continuing to sell arms to the Saudis amid the invasion of Yemen, particularly as the civilian death toll of that war mounts, and large numbers of the deaths are the result of Saudi airstrikes, carried out in US-made planes dropping US or UK-made bombs.
Though this is only a fraction of the overall $110 billion deal, President Trump is heavily defending the effort, and reportedly held a private, top-secret briefing for certain influential Senate leaders, aimed at convincing them to support the arms sales despite the mounting opposition.
Trump has been bragging about the arms deal since his visit to Saudi Arabia, noting it could be worth up to $360 billion over the next decade. The human rights consequences, however, continue to loom large, particularly with UN efforts to get peace talks going on Yemen having largely failed.