Fighting continues to grow in Syria's southernmost Daraa Province, described as the heaviest fighting yet today as Syrian troops, backed by Shi'ite militia forces, aimed to move deeper into rebel-held areas along the Iraqi border.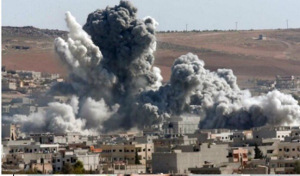 This was the second time they captured a region of the Iraq-Syria border in the past few days, hoping to use this as a land route through which Iraqi Shi'ite militias, currently fighting ISIS along the border, can enter into Syria and get involved in the fight there.
The rebels expressed concern that the government forces might violate the southernmost safe zone in an attempt to more quickly overrun rebel territory. So far, however, the Shi'ite militias and their affiliates seem to be finding plenty of ways to go after the rebels without violating the zone.
Syrian officials insist the push is not a violation of the ceasefire that is currently in place, but rather reflective that the military remains committed to respond to aggression, claiming that the "terrorists" in Daraa had actually started this round of fighting.