Saudi Arabia and its allies loudly cheered President Trump's latest public statement Friday accusing Qatar of supporting extremism, presenting it as vindication for their recent hostility toward Qatar, and their imposition of a broad blockade over them.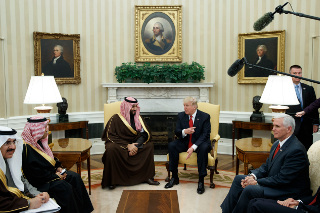 While Pentagon and State Department officials have expressed support for Qatar and generally opposed the Saudi-led blockade, President Trump has endorsed the moves against them, accusing Qatar of "an extremist ideology," and saying they are funding terrorism "at a very high level."
The Saudi-led blockade cut off Qatar's only land border, and they and their allies have blocked Qatari ships and airplanes from visiting. This has forced Qatar to revise their trading partners, with large amounts of food arriving today in shipments from Iran, across the Persian Gulf.
This is likely to add to the Saudi outrage that Qatar is "too close" diplomatically to Iran, though the recent moves against Qatar have virtually obliged them to seek basic supplies from Iran and Turkey, two close nations that are willing trading partners for them.
But while Saudi Arabia and Iran both quickly endorsed Trump's comments, they acted totally unaware of comments made in the course of the same event by Secretary of State Rex Tillerson, who urged the nations to "ease" the blockade somewhat for the sake of the ongoing war with ISIS.
Not only is there no sign of the blockade being eased, the Gulf leaders show no signs of making serious attempts to resolve the dispute, with the Saudis imposing a 24-hour ultimatum one time last week, and then scrapping the suggestion of a resolution entirely when Qatar didn't immediately and unconditionally submit to the huge array of demands.
Qatar's Foreign Ministry is complaining that the various accusations being made by the Saudis and the United Arab Emirates lack all transparency, and that oftentimes it isn't even actually clear what they're being accused of. Officials likewise noted that their ties with Iran are not secret, but long-standing, and that the UAE actually has a very similar, and slightly larger trade relationship with them.
The Gulf states appear to believe that so long as President Trump is taking their side, they can freely needle Qatar for both regional diplomatic gain, and in hopes that they'll eventually compel the Qatari government to make some radical concessions. Qatari officials maintain that they won't surrender, though so far efforts by US officials to mediate have been undercut by Trump taking a conflicting position.