Israeli Defense Minister Avigdor Lieberman was visibly annoyed when presented with the latest round of complaints from settler leaders who accuse the government of a "de facto freeze" on settlement expansion, noting that the government approved 3,651 settler units in just two days over the last week.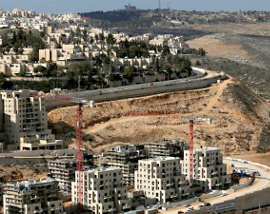 Lieberman went on to insist that the far-right government is already expanding the settlements at the "maximum" level that they can conceivably be done, and that in the first half of the year Israel has announced the most expansion of any time since the signing of the 1992 Oslo Accords.
The Defense Ministry is in charge of overseeing the settlements and the rest of the occupied territory, and Lieberman insists that he is well aware of the needs for major expansion, which is why the government has been expanding at such an unusually rapid rate.
At the same time, the Trump Administration has been pushing heavily for Israel to at least limit the rate of growth, and while clearly the government doesn't feel the need to limit in any practical way, they can use the call for limitation to justify current construction levels, which no matter how rapidly they grow will never be enough for many settler figures.