Heavy fighting over the weekend saw ISIS forces attempting to launch a new offensive in the town of Shirqat, south of Mosul, engaging in a protracted battle with Iraqi security forces, with the ISIS forces ultimately expelled from the area.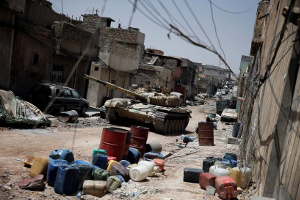 At least 38 people were killed in the course of the fighting, including 24 ISIS fighters and an unknown number of civilians. About 40 more people were wounded in the fighting. Iraqi forces have imposed a curfew throughout the region following the attack.
ISIS originally lost Shirqat back in the second half of 2016, in the early stages of the Mosul invasion. They have tried counteroffensives against Iraqi forces in areas outside Mosul a few times lately, but this is one of the biggest in months.
That the offensive was unsuccessful isn't surprising, as the area around Mosul is awash in Iraqi troops now. At the same time, this move suggests ISIS is not giving up on the idea of testing Iraq's hold on territory, and is not giving up on the idea of seizing such territory militarily.