As tensions continue to rise between Qatar and the other Gulf Arab states, Turkey's President Recep Tayyip Erdogan has today announced that he will "stand by" Qatar in the ongoing crisis, and will not abandon his support for the Qatari government during Ramadan.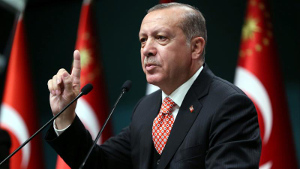 Erdogan also called out Saudi Arabia for having so quickly escalated the row, saying it was not suitable for the "most power state in the Gulf" to act this way, adding that he wants to see the Saudis "work for brotherhood, not animosity" in the region.
Hostility toward Qatar has centered heavily on Qatar's support for the Muslim Brotherhood and other democratic Islamist factions. Turkey's own ruling party has some ideological similarities, and Turkey has been among the loudest supporters of Qatar during the split.
Erdogan says he believes the blockade imposed against Qatar by neighboring states is wholly  unjustified and should be lifted immediately. Qatar has sought to make deals with Turkey to import food and water, as their traditional sources are all stuck at the Saudi border.