While officially the White House is condemning the ISIS suicide attacks in Tehran today, in keeping with their policy of being against ISIS, President Trump's own statement on the matter appeared less than wholly sympathetic, attributing the attacks to Iran "falling victim to the evil they promote."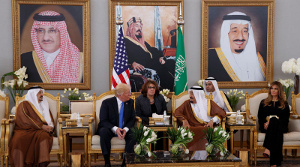 President Trump has made clear since the campaign that he does not like Iran, and spent much of his recent trip to the Middle East pushing hostility toward Iran, as well as portraying Iran as being to blame for most of the terrorism in the region.
That ISIS is the world's biggest terrorist organization, and that Iran has been heavily supporting both Iraq and Syria in fighting ISIS, doesn't fit into Trump's narrative, and the fact that ISIS just launched terrorist attacks in Tehran is particularly unwelcome to the US agenda of trying to spin everything wrong in the Middle East as being Iran's fault.
President Trump's answer to this, then, is to remind everyone that Iran is a "state sponsor of terrorism," an official designation by the US government which means effectively nothing, and only currently applies to three countries that the US doesn't like, none of whom has anything to do with ISIS, al-Qaeda, or other major international terrorist groups.