In 2015, US logistics coordinator Scott Darden was captured by Houthi forces in the Yemeni capital city of Sanaa, and held for six months before his release. During that time, he was presented purely as participating in helping the delivery of humanitarian aid into the country.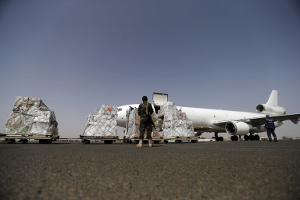 He did that, as part of his employment for New Orleans-based Transoceanic Development was overseeing the transportation of humanitarian aid to the nation, which in the midst of a Saudi invasion is struggling with a nascent famine. Today, however, the New York Times is reporting that his job also had him delivering shipments of war materiel to US special forces operating in Yemen.
Some officials were willing to confirm the broad details of this, but they, and Darden himself, were unwilling to provide specifics, citing its "highly classified" nature. This is fueling new calls within the House Armed Services Committee to exercise at least some oversight over what was being done.
Officials have long insisted the weren't sure why Darden was detained in the first place, though the Houthis made clear they believed he was spying for the US military or otherwise connected with them. How they pieced that fact together isn't at all clear, but they appear not to have been mistaken.
The use of aid workers, or putative aid workers in military operations is wildly controversial, as it obviously raises the general level of suspicion surrounding innocent humanitarian workers,, with many believing that they are all secretly in league with a foreign military because some of them are. This problem has already had negative fallout in other countries like Pakistan, where a phony US vaccination program involved in the lead-up to the bin Laden assassination led to years of hostility toward foreign vaccination workers, and a general suspicion toward vaccines in general. What the fallout of this revelation will be in Yemen remains to be seen.
Either way, officials quoted by the New York Times downplayed the idea that this was in any way improper or that they might even consider not doing it in the future, insisting that the aid shipment groups are hard up for money and that the US doesn't exactly have a lot of other options but to coopt humanitarian missions for the sake of their wars.