The Israeli press is reporting that senior officials say President Trump will sign a waiver to delay the relocation of the US Embassy in Israel from its present location in Tel Aviv to Jerusalem. The waiver has to be signed by tomorrow, according to US law.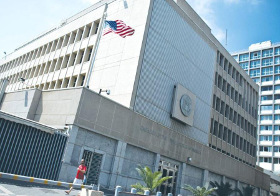 The Jerusalem Embassy Act of 1995 mandated the relocation of the embassy unless a president signs a semi-annual waiver saying it needs to delay the move for "national security reasons." Every president has done this, though President Trump made much of his intention to move the embassy during the campaign.
Concerned that the embassy move might harm his efforts at restarting peace talks, however, officials have been quoted in the Israeli press for several weeks as saying that the move would be delayed. The White House was refusing to discuss the matter at press briefings even today, despite the deadline being just 24 hours away.
Israel's far-right government has been pushing hard for Trump to move the embassy, seeing it as the ticket to international recognition of their annexations across the Green Line in Jerusalem. Though Israel claims Jerusalem as their capital, virtually no other nation recognizes this.