A series of bombings tore through Baghdad overnight, centering on commercial districts where Ramadan observers were breaking their daytime fast and visiting the various food vendors. The attacks left at least 31 killed overall, and wounded scores of others.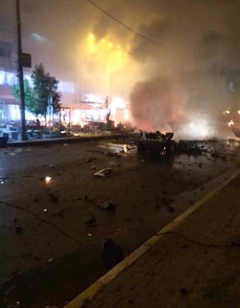 The largest of the bombings hit an ice cream parlor in central Baghdad, a particularly popular site for residents. At least 17 people were killed in this single attack, which caused chaos in the area. A video was captured showing the catastrophic attack.
ISIS claimed the largest of the attacks and is believed to be involved in most of them. Ramadan always leads to an increase in Islamist attacks, particularly against Shi'ite neighborhoods in Baghdad. These attacks often focus on areas which attract a lot of shoppers.
ISIS is likely to be even more aggressive this year, both because they've lost more of their territory and are shifting back to an insurgency-centric group in Iraq,  and because Iraq's military is heavily focused on invading Mosul, meaning they have less security forces remaining to dedicate to protecting civilian neighborhoods.