The civilian death toll of US airstrikes in and around the eastern Syrian town of Mayadeen continues to mount precipitously,, with the most recent figures out of the Syrian Observatory for Human Rights confirming over 100 civilians killed in just the last 24 hours. This is not including the 35 civilians killed in the previous day.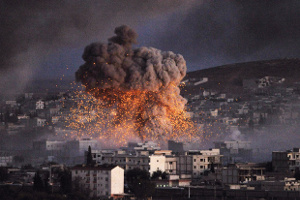 The Pentagon finally confirmed that they had carried out two days of strikes against Mayadeen, but that they had yet to "assess the results." Reports from the area suggest more or less everyone killed was civilians, including more than 40 children.
The most recent targets have centered around the town's municipal government building, where large numbers of civilians, mostly family members of ISIS fighters, had sought refuge. Indications are that around 80 of the 100 killed in the most recent strikes were ISIS family members.
It's unclear why Mayadeen specifically has become a target in the last few days, as most US strikes in Syria are meant to report the advances of Kurdish fighters around Raqqa, and while the town is indeed not very far from Raqqa, there is no indication that the Kurds are advancing anywhere near the area.