As the Egyptian military junta continues to struggle in its fighting against Islamist factions, which started virtually immediately after their 2013 coup d'etat, Egypt's Christian minority has become increasingly targeted. That was true again today, when a busload of Coptic Christians were attacked by gunmen from an unidentified group.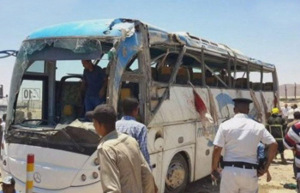 The bus was carrying the Christians to a monastery northwest in Minya, when the gunmen attacked, killing at least 28 people, and wounding 23 others. Many of the slain were children, according to Coptic news outlets, who said only three children survived.
The region is which this attack happened is about one-third Christian, but attacks by Salafist groups are not uncommon,and there is a growing sense among the locals that the Egyptian government, particularly the current junta, is either unwilling, or unable to do anything about it.
While ISIS is doubtless among the suspects for this attack, it is by no means the only group active in Egypt. Reports described the attackers as between 8 and 10 gunmen, wearing military uniforms. So far there has been no announcement of additional security measures in the area.