Carrying on the "freedom of navigation" operations that began under President Obama, the USS Dewey sailed within 12 nautical miles of an artificially built Chinese island in the Spratlys, identified as Mischief Reef, in a move officials say was done overtly to "defy" China's claims to ownership of the island.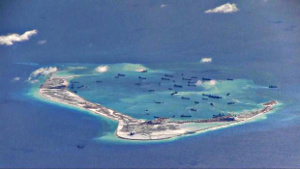 Ownership of many of the islands within the South China Sea are contested among various nations, with the US having made a formal policy of backing every other nation in the region's claims, so long as they conflict with China's claims. The US has also angrily been condemning China for building up islands in the area.
China has mostly ignored the operations to sail US warships through the area, which has meant the Pentagon has to not only officially announce them, but then publicize that they are being done explicitly to needle China over their territory claims.
Legally speaking, building islands isn't a violation of international law, as the US claims, and ownership of the area is technically contested between China and the Philippines, though Philippines President Rodrigo Duterte has downplayed the issue, and complained about US moves he says are trying to suck his nation into a naval war with China.