Public protesters are generally unwelcome across the Middle East when a US president is visiting, and in Israeli occupied territory protests among Arabs aren't particularly tolerated at any time. Today, those two problems intersected, and saw Israeli troops attack Palestinian demonstrators in the occupied West Bank.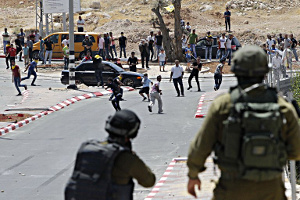 Israeli troops shot and wounded at least 11 Palestinians over the course of the crackdown, and many more hurt when Israeli police arrived and fired tear gas to disperse the demonstrations. Among those shot and wounded was a member of Human Rights Watch, wearing a vest that identified him as press.
The protesters were participating in a general strike across Palestine in support of ongoing hunger strikes among hundreds of jailed Palestinians held in Israeli prisons. The hunger strikers are demanding better conditions during their detention, and scores have been hospitalized, as the strike has been going more than a month.
Israeli officials presented the protesters as "rioters," as they are want to do, and also complained that they were blocking traffic in the course of their protests. That they were blocking traffic in areas may well have been true, but reporters insist they saw no signs of violence until Israeli bullets started flying.