Increased numbers of distinct factions operating in Syria means a growing number of enemies for every group, meaning potential attacks could come from any number of directions.  The Islamist Ahrar al-Sham group found that out over the weekend, when one of their headquarters was bombed by ISIS.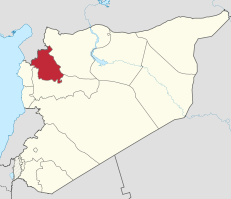 The headquarters was located in a village in Idlib Province, with the attacker parking an explosive-laden motorcycle outside, and entering the building with a suicide vest, before detonating both, killing at least 20 and wounding dozens.
Ahrar al-Sham is part of a Saudi-backed coalition of Islamist fighters in Idlib, which is distinct from the Islamist coalition dominated by al-Qaeda's Nusra Front, both of which are distinct from ISIS, and all of which have designs on taking over Syria.
Rebel-on-rebel attacks like this often benefit third party factions, who exploit any response the fighting groups make against one another to their own benefit. It remains to be seen if this bombing is a one-off, or a prelude to deeper fighting between the two sides.