Sources familiar with the ongoing peace talk efforts say that Palestinian President Mahmoud Abbas signaled "unprecedented readiness" for a peace deal with Israel during his meeting at the White House last week, a sign that the peace process could be getting a big shot in the arm.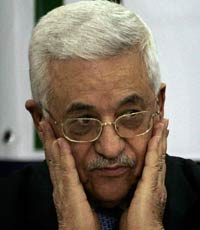 This is expected to be a big focus of President Trump's visit to Israel later this month, as Trump is expected to both emphasize Abbas' willingness to make a deal, and to try to get assurances from Israeli Prime Minister Benjamin Netanyahu that he is too.
That's going to be a problem, as always, since the Israeli far-right government is deeply split on peace as a general proposition, and any such commitment by Netanyahu, even an empty one, could have huge political ramifications for him.
In the past, Israel's "commitment" to peace has deeply rested on the narrative of the Palestinians not being ready, or somehow inherently unable to make peace. This has allowed them to go through the motions on previous processes, before finally ditching them outright.