Nearly a month after it was initially presented as being en route, the USS Carl Vinson and its carrier strike group today finally arrived off the coast of the Korean Peninsula, joining joint military operations with South Korea and once again raising the possibility that the United States might attack North Korea outright.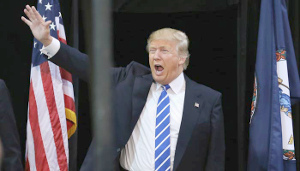 The USS Carl Vinson took the long way round, leaving Singapore on April 8 and heading the opposite direction from Korea, ending up off the coast of Indonesia by April 18. Officials have since then struggled to explain why President Trump and others claimed the "armada" was being rushed to North Korea
It's arrived now, however, just days after the White House briefing of the entire Senate, and amid a new round of US threats against North Korea. Sen. Chris Coons (D, DE) from the Armed Services Committee once again talked up the idea of the US conducting a "first strike" attack on North Korea, saying it was a "serious" possibility.
North Korea has threatened massive retaliation against any US attack, and while the White House has mostly dismissed that risk, US military officials have confirmed that North Korea is capable of massive retaliation in the event of a war, potentially leading to mass casualties and widespread damage in South Korea.