An Israeli delegation is in Washington this week negotiating with the Trump Administration on a "slowdown" for settlement construction plans in the occupied West Bank. Israeli Prime Minister Benjamin Netanyahu says the goal is an "agreed upon formula" for the future rate of growth the US will accept.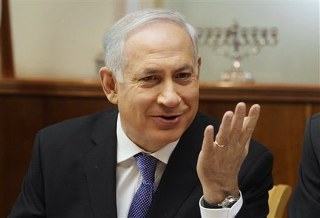 The Netanyahu government announced several major settlement expansions right after Trump's inauguration, but has slowed down in the face of growing US complaints. Netanyahu has been courting recent Trump aides on the matter, trying to get some sort of deal in place on the creation of a new West Bank settlement.
The delegation in Washington is also said to be seeking a deal on the new settlement, which Israeli officials are trying to argue isn't "new,." but simply a replacement for the illegal Amona outpost. Netanyahu promised Amona evacuees a new settlement after the High Court ordered it demolished for being on privately owned Palestinian land. The new settlement is also intended to be built partially on privately owned Palestinian land, but Israel's parliament has since legalized taking Palestinian land for settlements.
Whatever sort of deal is reached, Netanyahu insists that the settlement construction in occupied East Jerusalem will not be part of the deal. Israel argues that they've annexed East Jerusalem and that they can freely expand there. The rest of the world does not recognize this annexation.
Large settlement expansions are increasingly politically vital for Israel's far-right coalition government, as they depend heavily on political support from the settlers. This has become increasingly difficult, however, as the settler leaders are so used to being pandered to that even small expansions lead to condemnations from them as insufficient.