Speaking to the Israeli Knesset today, Defense Minister Avigdor Lieberman warned against any efforts to try to annex the occupied West Bank, saying that President Trump had "directly" warned Israel against doing so in a recent message.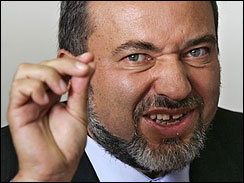 Lieberman said Israeli annexation would mean "an immediate crisis" in US-Israeli relations, and was too dangerous even before considering the ramifications under international law for extending Israeli sovereignty to include 2.7 million occupied Palestinians.
Trump Administration officials refused to issue any public comments related to Lieberman's, saying they don't want to discuss "private communications" with Israel, but that they do expect Israel to "act reasonably" in the future, allowing Trump to take a stab at the peace process.
That's difficult with Israel's current far-right government, as many believe that Trump is desperate enough to be portrayed as "pro-Israel" that he would ultimately knuckle under for anything the Netanyahu government decides. Netanyahu clearly doesn't think this is the case, however, and has warned the cabinet they need to slow things down for the time being to avoid a fight with Trump.