The latest in a series of Trump Administration cabinet picks to survive an extremely tight confirmation vote, Rep. Mick Mulvaney has been approved as the director of the Office of Management and Budget, with the Senate vote coming up 51-49.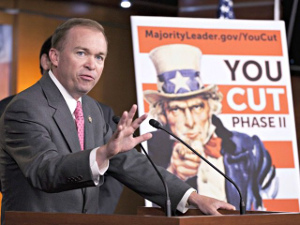 Mulvaney has been loudly attacked by Republican hawks in the Senate, who complained about previous votes calling for the end of the US occupation of Afghanistan and opposing massive increases in US military spending, with Sen. McCain (R – AZ) calling him "crazy" for not supporting the Afghan War.
McCain ultimately voted against Mulvaney, but it was ultimately not enough to keep him from surviving confirmation. The Trump Administration has assured Congress that Mulvaney will support increased military spending in the future, so long as there is money to pay for it.
Mulvaney fits into the position as a strongly fiscally conservative figure, which is likely to continue to annoy Congressmen who want spending priorities kept carefully separated from the question of how they would be able to pay for it.