The latest in a string of large bombings targeting Sufi shrines in Pakistan, ISIS today sent a suicide bomber to the gate of the shrine to Lal Shahbaz Qalandar, killing at least 75 people and wounding hundreds of others. Many of the wounded are in bad shape, according to health officials, and some reports have suggested the toll has already risen beyond 100 killed, though this as yet isn't confirmed.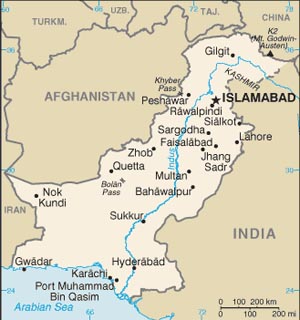 Locals complained that security was lax at the shrine, allowing the bomber to get close to the crowds of people within before detonating. This has been a recurring complaint after large attacks in Pakistan, which often target religious minorities who appear to lack significant security support.
The Pakistani Army has responded by promising to show "no restraint" in retaliating against the attack, and announced the immediate closure of the border with neighboring Afghanistan until further notice, though it is unclear that the bomber actually came from Afghanistan.
ISIS has small, but operational, factions in both Afghanistan and Pakistan, and in both cases the groups appear to be growing both in size and capacity for carrying out large scale attacks. While ISIS is far from the only group in Pakistan that attacks Sufis, the addition of ISIS to the already crowded militant scene there adds to serious problems.