Speaking at a defense industry conference today, Gen. Raymond Thomas announced that the United States has killed 60,000 ISIS fighters, insisting this proved US troops had been "pretty darn prolific" in their killing of ISIS people.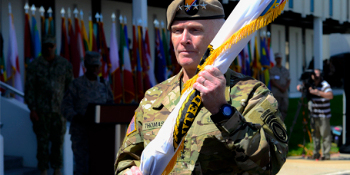 This figure is noteworthy for two reasons. Firstly, the Pentagon had claimed 50,000 ISIS fighters were killed just back in December, meaning that the general is effectively claiming the US has directly killed 10,000 more ISIS fighters in just two months, a staggering figure.
Perhaps more importantly, the Pentagon had estimated last summer, while bragging about having ruined ISIS' recruitment abilities, that there were only about 15,000 ISIS fighters left. Despite having killed well more than 15,000 ISIS since then, it appears ISIS isn't out of troops or even visibly any more short-handed in Iraq and Syria than they had been.
Gen. Thomas' take was that the killings showed the US making "great progress," though it also raises questions about why the Pentagon is killing way more ISIS fighters than it ever believed to have existed in the first place, and why ISIS always seems roughly the same size every time the US offers these counts.