White House officials say President Trump had a "very good call" with Ukrainian President Petro Poroshenko over the weekend, during which hew promised to work to restore peace along Ukraine's eastern border with Russia, an area which has faced years of civil war.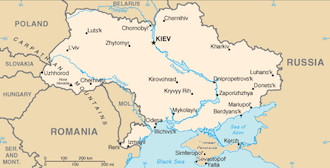 According to a read-out of the call, Trump promised to work with Ukraine, Russia, and all other parties on the issue, with an eye toward restoring peace along the border. Trump and Poroshenko also discussed the possibility of meeting in the near future.
Trump's comments suggest a diplomatic approach to the situation, and won't sit well with Senate hawks, as Sens. Lindsey Graham (R – SC) and John McCain (R – AZ) were in Ukraine just days ago meeting with Poroshenko and Ukrainian troops on the front line, urging a military offensive and pledging US support for a fight against Russia.
The latest flareup in fighting in Eastern Ukraine threatens a ceasefire that's been in place (mostly) for the last two years. The Minsk ceasefire was negotiated with the help of Russia, France, and Germany, though some US officials have expressed annoyance at the idea, since it doesn't support the narrative that Russia is wholly behind the fighting and opposed to ceasefires.
Both sides of combatants have blamed the other for the recent fighting, and while Western officials are eager to blame Russia for the latest fighting, Russian officials have said they believe Poroshenko wants the flareup to try to curry favor with the US.