This time a year ago, Iranians were at the dawn of what appeared to be a major international rapprochement, with high hopes for new commerce and an era of peace with the region, as the P5+1 nuclear deal went into effect, and money freed from frozen accounts began to trickle in, looking for investment in modernization.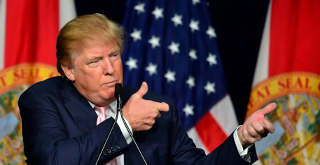 Now, those same Iranians are openly fearing imminent US attack, or at the very least a return to the economic isolation of recent decades, following President Trump's threats against the nation, and his promise not to "be kind" to Iran as President Obama had been.
Locals who had hoped to travel to the United States are now uniformly banned by President Trump's executive order, with no sanctions imposed today, and administration officials continuing to insist that military action has not been taken off the table.
The new round of threats against Iran began with a weekend missile test by Iran, but have continued to pick up steam seemingly on their own, as Iran hasn't done anything new since the test, and US officials have gone from saying it "might" violate a UN ban to saying it was a threat to the whole world, to imposing new sanctions, to threatening even more sanctions, and even talking up military action, all in the span of just a few days.